10-26-2015, Saat:04:00 PM
NMB48 - Kitagawa Kenji (北川謙二)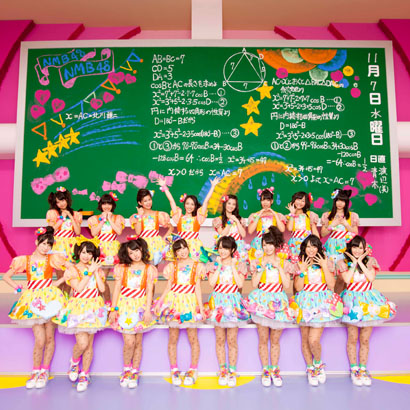 Kitagawa Kenji şarkısı NMB48'in 1.Albümünde yer alan 
Linki görebilmek için giriş yapmanız ya da üye olmanız gerekir. 
şarkısının içinde yer alan 6.şarkıdır.
Şarkıda Yer Alan Üyeler
Team N 
(Ogasawara Mayu, Kadowaki Kanako, Kishino Rika, Kotani Riho, Jonishi Kei, Shiroma Miru, Fukumoto Aina, Yamada Nana, Yamamoto Sayaka, Yoshida Akari, Watanabe Miyuki), 
(Tanigawa Airi, Yagura Fuuko), 
(Kato Yuuka, Yabushita Shu), 
KANJI & KANA
ずっと気になってたんだ
微(かす)かな風の噂
君がつき合ってた彼氏
会いたくなんてないけど
そう このカフェテリアで
偶然 遭遇してしまった
いたずらっぽいウィンクしながら
顎の先で合図した
Look at
あれが北川謙二だ
君はそっとつぶやいて
僕の (僕の)
反応 (反応)
楽しんでる
Look at
まさに北川謙二だ
僕はちょっと苛ついて
今の君をもう一度抱きしめる
きっと 聞けないだろう
一番好きな人が
誰とつき合っていたか…
僕は 嫉妬深くて
器も小さすぎる
過去のことも許せないんだ
もしも目の前に 彼がやって来たら
愛のために 戦おう
He is…
あれが北川謙二だ
君は懐かしそうだね
彼の (彼の)
甘い (甘い)
そのスマイル
He is…
だけど北川謙二だ
君をしあわせにできなかった
そう そんな奴に負けたくないんだ
Look at
あれが北川謙二だ
君はわざと大声で
愛と (愛と)
愛を (愛を)
試している
Look at
つまり北川謙二だ
そして僕はわかったよ
今の君がキレイなのは
彼のおかげ
ROMAJI
zutto ki ni nattetanda
kasu ka na kaze no uwasa
kimi ga tsukiatteta kareshi
aitakunantenai kedo
sou kono KAFETERIA de
guuzen souguu shite shimatta
itazurappoi WINKU shi nagara
ago no saki de aizushita
Look at
are ga Kitagawa Kenji da
kimi wa sotto tsubuyaite
boku no (boku no)
hannou (hannou)
tanoshinderu
Look at
masa ni Kitagawa Kenji da
boku wa chotto iratsuite
ima no kimi wo mou ichido dakishimeru
kitto kikenai darou
ichiban suki na hito ga
dare to tsukiatte ita ka...
boku wa shitto fukakute
utsuwa mo chiisa sugiru
kako no koto mo yurusenainda
moshimo me no mae ni kare ga yattekitara
ai no tame ni tatakaou
He is...
are ga Kitagawa Kenji da
kimi wa natsukashi sou da ne
kare no (kare no)
amai (amai)
sono SUMAIRU
He is...
dakedo Kitagawa Kenji da
kimi wo shiawase ni dekinakatta
sou sonna yatsu ni maketakunainda
Look at
are ga Kitagawa Kenji da
kimi wa wazato oogoe de
ai to (ai to)
ai wo (ai wo)
tameshiteiru
Look at
tsumari Kitagawa Kenji da
soshite boku wa wakatta yo
ima no kimi ga kirei na no wa
kare no okage
İngilizce Çeviri
Those faint rumors
About the guy you went out with
Always weighed on my mind
It's not that I wanted to meet him
But yea, we just happened to see each other
In this cafe
While giving me a mischievous wink
You also made a gesture with your chin
Look at that's Kitagawa Kenji
You quietly mutter that to me
Enjoying (enjoying) that look (that look) on my face
Look at that's certainly Kitagawa Kenji
Now I'm a little anxious
I hug you again right at that moment
You definitely can't hear about
The guys that the person you love
Went out with right?
I'm jealous and very petty
I won't even forgive things from the past
If that guy comes here in front of us
I'll duke it out with him for your love
He is that Kitagawa Kenji
Looks like you are getting sentimental by
That sugary coated smile of his
He is still Kitagawa Kenji
He couldn't make you happy before
That's right, I don't want to lose to that guy
Look at that's Kitagawa Kenji
You deliberately yelled that out loud
Sizing up (sizing up) our love (our love) with love
Look at after all it's Kitagawa Kenji
Then I knew
It's all thanks to him
That you became this beautiful